Are you thinking about turning your bathroom style ideas into a reality?
From fixtures to lighting, it can feel like you need to make a thousand decisions when it comes to style and design. For many homeowners, bathrooms can really be a place to let personality and creativity shine.
For others, though, a bathroom is about as functional as it gets.
But, regardless of how you feel about your bathroom design ideas, knowing what common areas challenge homeowners is a great way to start a project.
A bathroom renovation of any size can be a fairly involved and expensive project.
In most cases, you'll need to enlist the help of professionals to handle at least the plumbing and lighting installations. These costs can quickly turn a budget into an uncontrollable monster.
So, if you've got some bathroom concepts on your mind, here is what you need to know when it comes to avoiding common design mistakes.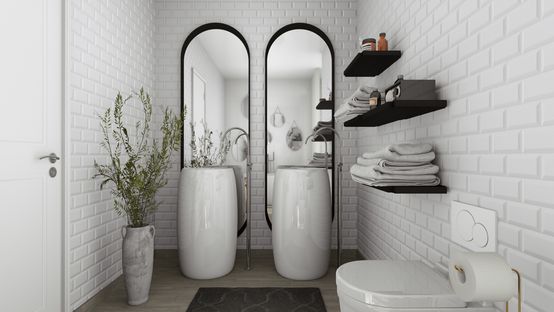 Things to Consider When Designing a Bathroom
It's easy to overlook your bathroom spaces.
In reality, though, these are some of the most important areas of your home. Not only does your family use the bathroom daily, but it's a pretty common focal point for potential homebuyers.
Bathroom renovations are one of the most common home renovations that increase property value—with the average cost of a bathroom renovation being around $27,000. So, if you're planning on renovating to sell or just looking to make some practical improvements, the bathroom is a great place to do it.
Let's take a look at some common bathroom design considerations you should make when planning out your next project:
Bathroom layout—nobody wants a cramped bathroom. But, sometimes, you don't have a lot of wiggle room when it comes to space. Creating a streamlined layout is the key to optimizing space.
Fixtures—while changing fixtures can breathe new life into a bathroom, consider the fact that you'll need a plumber to install new fixtures or move existing water lines.
Lighting—lighting can make or break a space. For large bathrooms, the wrong lighting can be jarring. For smaller bathrooms, the right lighting can make the area feel inviting and warm.
Ventilation—let's just say a bathroom needs proper ventilation. The last thing you want is to find out you're lacking in this area after your renovation project wraps up.
Of course, these are just a few common areas that homeowners tend to neglect when planning their bathroom spaces. You should also keep in mind things like the average bathroom size and proper material choices to really create a stunning bathroom design plan.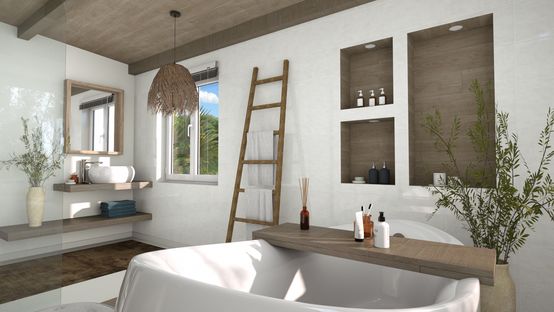 Features to Look For in Bathroom Design Software
Turning your bathroom design ideas into reality can feel difficult.
But you don't have to do it alone. In fact, you can find plenty of options on the market when it comes to bathroom design apps. The goal of software like this is to streamline the planning and design process—saving you hours of work and often labor costs in your budget.
Whether you're a home builder, a remodeler or just a DIYer looking for the best in today's renovation software, leveraging the power of these platforms can really benefit your project goals.
How do these software options help users build out plans?
Well, all-in-one platforms like Cedreo put powerful CAD-level tools in your hands so you can create streamlined design plans in under a few hours. Here is how it all works:
First, the 2D floor planning tools help you create floor plans for your bathroom space.
Next, Cedreo helps take plans off the page with 3D floor plans that show the fully furnished space.
Cedreo also helps with the interior design of your bathroom with expansive libraries of furnishings and materials.
These are just a few features of home design apps like Cedreo.
Some additional features to look out for include:
Bathroom design examples
Bathroom planner FAQ library
The ability to create full 3D renders
Photorealistic renders
The ability to import existing plans
Some software options can offer you help when it comes to your budget too. With Cedreo and CostCertified, users can estimate the total project cost based on existing plans. This gives you real-time pricing updates that can help you manage your budget.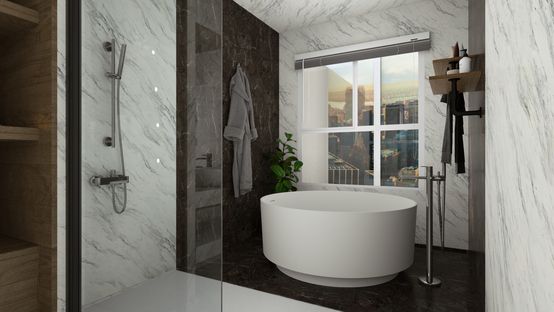 10 Common Bathroom Design Mistakes to Watch Out For
Don't jump into your next bathroom renovation project without the right know-how. Here are a few common bathroom design mistakes to have on your mind.
1. Bad Location in the House
While not everyone has the luxury of starting from scratch, if you're in the beginning stages of your home's design, always place your bathrooms in the right place.
Consider where you're placing your bathrooms in your home. Are they in obvious places for guests to find? What about near the bedrooms? The last thing you want is to walk across your home to use the restroom in the middle of the night.
You want your bathroom to be out of sight from main areas like your dining room and kitchen to offer seclusion. Instead of having these spaces physically separated by distance, try to use walls and other design elements to hide your bathrooms. 
2. Poor Fixture Placement
Moving fixtures can get expensive. Anytime you move a water line, you'll need to employ the help of a plumber.
But changing up your fixture placement can help the overall design and flow of the space quite substantially. Consider placing your fixtures, like your toilet and shower, in their own space. This is a great way to separate areas of the bathroom to offer additional privacy.
This is an excellent approach to designing shared bathrooms or bathrooms attached to a master bedroom where more than one person might reasonably be in the area at the same time.
3. Neglecting Ample Storage and Counter Space
Who needs to store stuff in the bathroom? Well, most of us do.
Think of all the stuff you keep in your bathroom. From face moisturizer to extra toilet paper, it all needs to go somewhere. For this reason, you really need to carefully consider storage and counter space.
Without proper space on the counter and in the drawers, you can quickly clutter up your bathroom.
Consider both what your current storage needs are as well as consider what your bathroom storage needs might look like in the near future. Remember, you want to create a space that meets your current needs and grows with you.
4. Bad Ventilation
Proper ventilation is so important for bathroom design.
We already touched on this essential topic earlier, but here are a few tips to help you along the way:
Always make sure your fan ventilation system is adequate for the space.
If you can, place windows in your bathroom area that can add a bit more airflow
Keep bathroom spaces away from common areas like living rooms and kitchen if you can
These few tips can really make all the difference. Remember that you want your bathroom space to feel comfortable, and proper ventilation and airflow are part of that.
5. Incompatible Fixtures
It's really easy to go over the top with fixtures like tubs and showers. But have you considered whether or not your home can handle these new features?
Many homeowners don't make the proper calculations for things like hot water demand to adequately meet the requirements of luxury features like tubs.
If you need some extra help here, always consult a plumber. They can give you a review of your current water system and let you know whether you'll need to upgrade things like your water heater to accommodate new fixtures.
6. Inadequate Waterproofing
Your bathroom is going to get wet.
While this might seem obvious, many homeowners don't consider the consequences of poor waterproofing.
For example, if your shower doesn't have adequate draining, you'll see pooled water after every shower. This can quickly lead to moisture issues and mold problems—and those can be a struggle to manage.
Many areas of the bathroom require waterproof membranes to keep moisture at bay. This is common for tubs and sinks, but consider putting them to use all around your bathroom for better waterproofing.
7. Insufficient Lighting
Lighting is critical for every room in your house.
When it comes to your bathroom, you should think practically about your lighting needs. For instance, while bright lighting might seem like the best choice, consider that you'll use your bathroom at night. This bright lighting can be jarring in the dark hours of the morning.
What you want is variable lighting that can accommodate both day use and night use.
8. Improper Materials
Not every material is good for bathroom design.
Again, consider the fact that this space will see a considerable amount of moisture. It's not just the shower or sinks either, water can easily splash around and condensation can leave droplets all across the area.
If you're using porous or absorbent materials, it can be a recipe for disaster.
Improper material choice can lead to serious mold and mildew issues down the line.
9. Poor Layout Design
The arrangement of your bathroom can make all the difference. We've all been in bathrooms with poor layouts.
Choosing the right layout design means understanding where you should place your fixtures to get the most longevity and performance out of them..
When planning out this space, always consider who's going to be using the bathroom. The needs of a family of four are much different than a young couple looking for stylish features over practical elements.
10. Incorrect Measurements
There's an old adage in construction, "measure twice, cut once."
Homeowners looking at a bathroom redesign should really consider measuring as meticulously as they can. For one, bathroom space tends to be fairly cramped relative to other areas of the home, so space matters.
Secondly, you need to install plumbing fixtures correctly with the right measurements to avoid leaks down the road.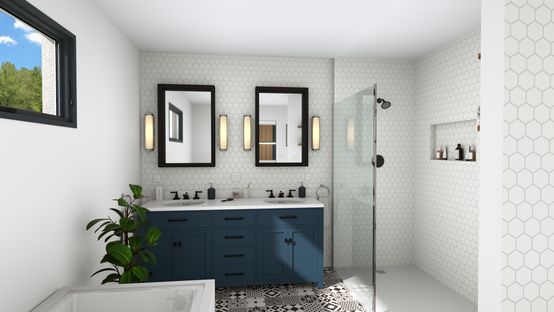 How Floor Plan Software Can Help You Avoid These Mistakes
Whatever your bathroom design ideas, you should now have a bit more information under your belt to master the design and planning process.
If you're looking for the best planning tools, consider bathroom design software like Cedreo.
With Cedreo, you can easily create 2D and 3D floor plans and designs in under a few hours. Cedreo is the go-to tool for everyone from professional contractors to DIYers. With an expansive material library and features like CostEstimate, you can get control over every aspect of your next project.
Floor plan software can help you visualize all your ideas and adapt to new plans on the go. Moreover, they can give you a better perspective on your project with multiple camera views and the ability to create photorealistic 3D renders with just a few clicks.
No matter what your project scope is, Cedreo can help you create stunning floor plans.
From choosing from a collection of thousands of material choices to the ability to create project PDFs on the fly, Cedreo offers a full suite of tools that make bathroom design and planning easy.If you're ready to get started with Cedreo, make sure to connect with the team today.