Are you a housing professional looking to take backyard design to the next level? Look no further than the pool house! These versatile structures can be everything from a kid's hangout to a guest house oasis. With a little creativity and some inspiration, you can transform your client's backyard into the ultimate entertaining space.
But designing a pool house can be a daunting task, there's so much to take into account — the size of the pool, materials that can stand up to the elements and even safety considerations for little ones,
Don't worry! We've gathered some pool house design ideas to inspire you and get your creative juices flowing. From cohesiveness in architecture to designing a kid-friendly space, we've got you covered.
Read on to discover how to create a pool house oasis that will wow your clients and elevate their backyard to the next level.
A Few Design Tips to Start Off
Designing a pool house that perfectly complements your client's backyard can be tough. Before diving into the design ideas, it's important to consider a few factors that will guide the process. Here are some things you and your clients should think about before deciding which pool house design ideas to implement:
Budget: Pool houses can range in price from simple and affordable to extravagant and costly. By setting a budget at the beginning of the project, homeowners can ensure that the design ideas they come up with are feasible and won't break the bank.
Purpose: Will it be used primarily for entertaining guests, or will it be a space for kids to hang out and play? Will it serve as extra storage for other outdoor gear? Understanding the intended use of the pool house will help guide the design process and ensure that the end result is functional and practical.
Layout: The design should allow for easy access to the pool, as well as to any other amenities that your clients may want to include, such as a bar, bathroom, outdoor kitchen or storage space. The layout should also allow for comfortable seating and easy flow between indoor and outdoor spaces.
Size: Take the overall size of the pool into account and plan on creating a pool house that is relative to the size of the pool.
Taking these factors into consideration is the first step for coming up with pool house design ideas that are both functional and beautiful. From there, the possibilities are endless and there are plenty of design options to choose from to create the perfect backyard oasis.
Check out the next section for our top 10 pool house design ideas. 
10 Pool House Design Ideas We're Loving
Whether your clients are looking for a cozy spot to escape the sun or a space to host summer parties, there are endless design options to choose from. Here are ten pool house design ideas that we're currently loving.
1. Coheasive Architecture
Streamlining the architecture and design of the pool house to complement or mimic the main house creates a cohesive and unified look. This can be achieved through the use of similar materials, finishes, and design elements.
For example, if the main house has a shingle roof and cedar shake siding, consider using the same on the pool house as well. Mimicking the style of the main house in the pool house will create a seamless transition between indoor and outdoor spaces, making the pool house feel like an extension of the home.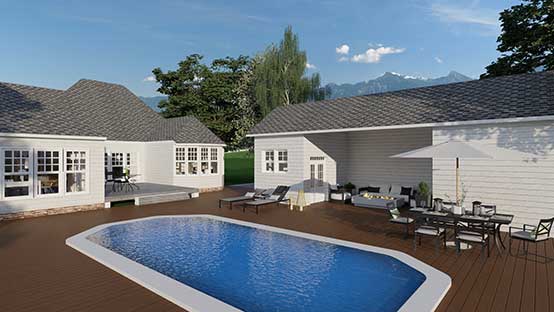 2. Build with Sustainable Materials
Sustainability is becoming increasingly important in modern design. By incorporating sustainable design principles, you can create a more eco-friendly and efficient pool house. Here are a few tips to consider:
Choose materials that are eco-friendly, recycled, or reclaimed.
Install energy-efficient lighting and appliances.
Use passive solar heating and shading techniques.
Plant native trees and vegetation around the pool house to improve the landscape's biodiversity and aesthetics.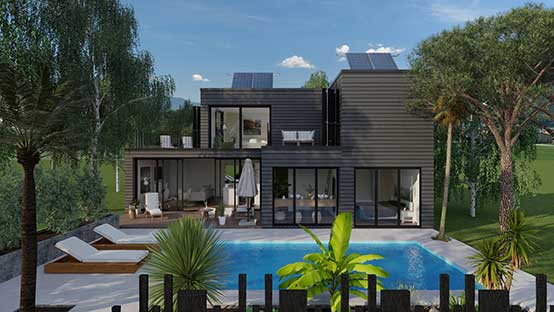 3. Make It a Kid-Friendly Space
If you have children, consider designing your pool house with them in mind. Including features like a mini fridge stocked with kid-friendly drinks and snacks, a chalkboard wall for drawing and games, and even bunk beds for sleepovers can create a fun and functional space that the whole family will enjoy.
It's also important to make sure your pool house is safe for them.
Install a fence or barrier around the pool to prevent unsupervised access.
Use slip-resistant materials on the pool house floor and surrounding area to prevent slips and falls.
Make sure any furniture or fixtures are secured to the floor or wall to prevent tipping.
Consider adding a bathroom or shower to make it easier for kids to change and clean up before and after swimming.
By keeping safety in mind when designing your pool house, you can create a space that's not only fun for kids but also provides parents with peace of mind.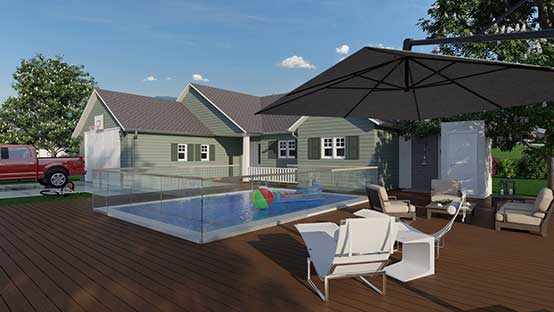 4. Design A Guest House Oasis
A pool house can also serve as a guest house for visitors. With a few thoughtful design choices, you can create a cozy and inviting space for your guests.
Here are some tips:
Create a private entrance to the pool house.
Include a comfortable bed and bedding for a good night's sleep.
If you're short on space, use a futon to provide seating during the day and a bed when needed.
Provide ample storage for their belongings.
Add a small kitchenette with a fridge, sink, and microwave for convenience.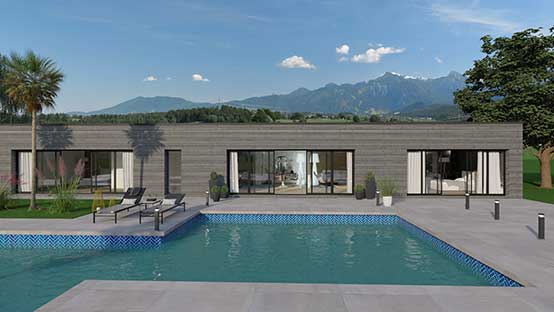 5. Incorporate a Bar for the Perfect Entertaining Space
For those who love to entertain, incorporating a bar into your pool house design is a must. Consider installing a countertop with a built-in sink, a small fridge, and storage for glassware and alcohol. This will create a dedicated space for mixing and serving drinks, making it easy to keep the party going.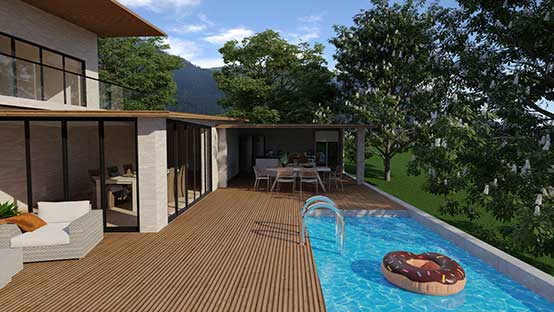 Having plenty of storage space in your pool house is essential for keeping towels, pool toys, and other essentials organized and easily accessible. Consider including hidden storage spaces like a crawl space or attic for large, bulky items. This gives you a nice space for storing all of those bulky pool tools when the pool is closed for winter.  But also don't forget to include shelves, hooks, and cabinets for smaller items.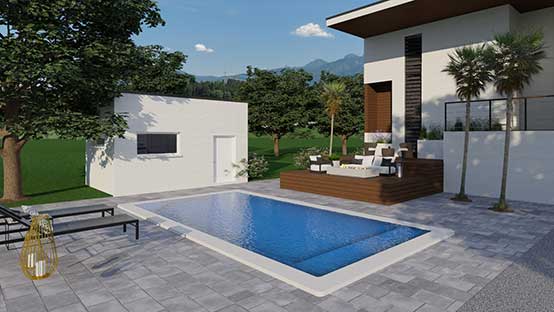 7. Consider Durable Materials
When designing a pool house or cabana, it's important to choose materials that are durable and can withstand harsh outdoor conditions and pool chemicals. Materials such as concrete, brick, and stone are great options for the exterior walls and floors. You can also opt for weather-resistant woods like teak, cedar and redwood. Materials like those are easy to maintain and won't require frequent repairs or replacements.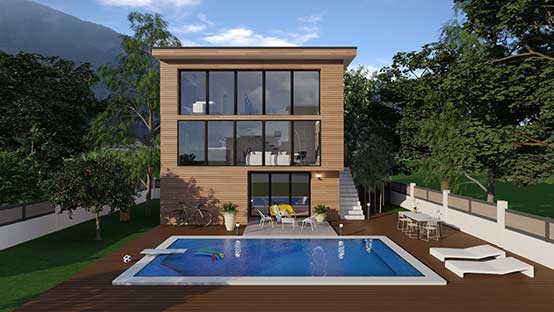 8. Don't Forget to Include a Bathroom
One of the key features of a pool house or cabana is a bathroom. A bathroom provides convenient and private changing facilities, as well as a place to rinse off after a swim. Make sure the bathroom is easily accessible from both the pool and the interior of the pool house. You can also consider adding an outdoor shower space for rinsing off before heading inside or even cleaning up small pool toys.
9. Optimize That Exterior Space
In addition to the pool house or cabana, there are several other exterior features that can help enhance your backyard oasis. Consider adding an outdoor shower for rinsing off after a swim, a fire pit for cozy evenings or an outdoor kitchen for entertaining guests. These features help create a complete and functional outdoor living space that you can enjoy all year round.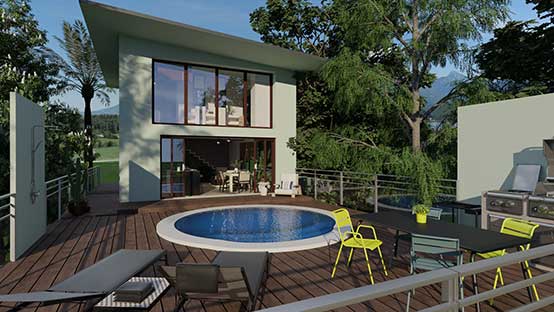 10. Upgrade a Gazebo or Pergola for a Quick Alternative
If you're looking for a quick and easy alternative to a full-scale pool house or cabana, consider upgrading your existing gazebo or pergola. Add features such as curtains, a ceiling fan, and outdoor lighting. Consider adding comfortable seating and a table for dining and entertaining. Do that and you can transform a simple existing structure into a cozy and stylish poolside retreat.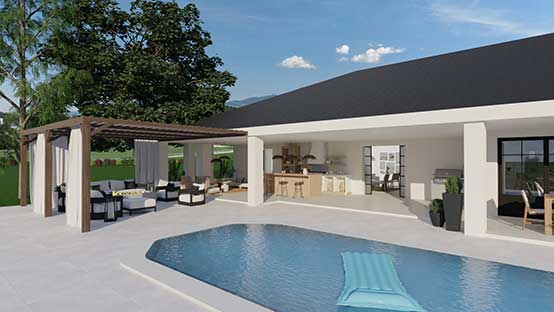 Start Designing the Perfect Backyard Pool House Oasis Today
Designing a pool house or cabana can be a fun and exciting project that can truly elevate any backyard. Implement those pool house design ideas and, you can create a space for your clients that is not only functional but also stylish and comfortable.
To streamline your pool house design process, consider using Cedreo, a powerful 3D design software that can help you create stunning pool house floor plans in just minutes.
Easy-to-use interface that doesn't require prior experience in CAD software
A vast library of 3D models, textures, and finishes to choose from
Quick and accurate floor plan creation
Detailed 3D renders that provide a realistic preview of the final result
Collaboration tools that allow for seamless communication with clients and stakeholders
With Cedreo, you can impress your clients with stunning and realistic pool house designs while streamlining the design process and reducing the costs associated with traditional design methods. Start designing the perfect backyard pool house oasis today with Cedreo.