Kitchen Remodeling Software
Complete Kitchen Remodels Online in a Fraction of the Time

Create remodel floor plan designs in 50% of the time compared to other software

Access Knowledge Base anytime online with tutorials and step by step instructions

Photorealistic renderings will be generated and ready to impress clients in just 5 minutes
How It Works
Start using Cedreo to plan a kitchen remodel online and see how much time you'll save. Create professional kitchen designs in just a few steps: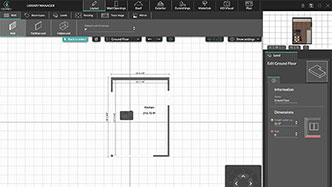 Draw or Import Existing Kitchen Layout
Import a plan of the new project and use Cedreo's tools to trace over it, or you can quickly draw from scratch. In fact, you can draw most basic kitchen layouts in as little as 5 minutes. Then you can even save and duplicate the plan as a kitchen remodel template for future projects.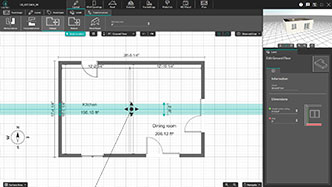 Finalize New Dimensions
Use the enlarge/reduce tool to quickly make changes to the overall floor plan. Select, move, and resize existing walls or drag and drop new ones. As you make adjustments, you'll see instant updates to the measurements and surface area dimensions.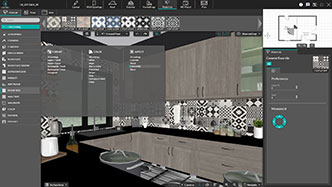 Customize Surfacing and Materials
Create a kitchen design your clients will love. It's easy with Cedreo's extensive library of surface materials. Customize cabinets, countertops, flooring, and backsplashes with tile, wood, and other materials.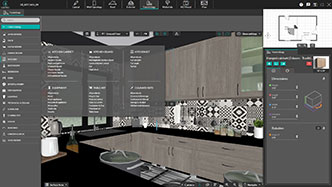 Add Furnishings and Decor
Cedreo's design library has thousands of different cabinets, appliances, fixtures, decorations, and more. Pick each piece individually, or drag and drop one of our coordinated product packs to quickly finish your kitchen design.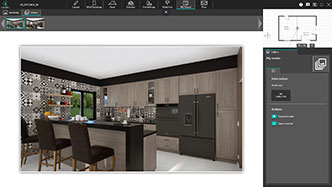 Generate Photorealistic Designs
A lifelike visualization of the finished kitchen is a great way to impress clients. So once you've finished arranging the kitchen, just select the view, adjust the lighting, choose the resolution, and submit the rendering for processing.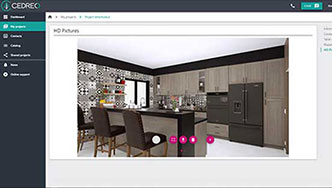 Download and Share
Choose the Enterprise plan for streamlined collaboration with your team. Share designs with other users so they can view and edit them online. Download the plans and renderings in JPG or PDF formats and share them with clients.
Examples of Remodeled Kitchen Layouts Designed With Cedreo
Cedreo is the top kitchen remodel planner that helps remodelers and professional interior designers like you create stunning kitchen designs faster than ever. From initial ideas to putting the final touches on a project, Cedreo is engineered with features that save you time and money. See some real examples of kitchen remodel designs created with Cedreo.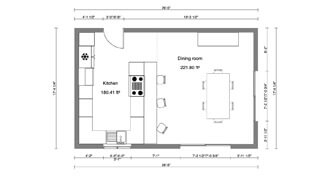 Remodeled 2D Kitchen Floor Plan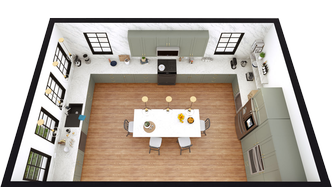 Remodeled 3D Kitchen Floor Plan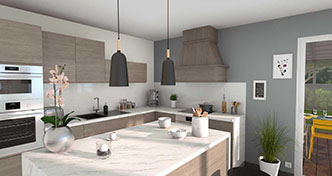 Remodeled Kitchen with Range Hood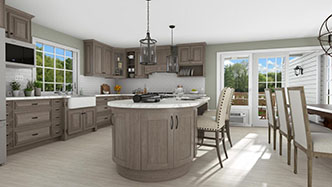 Remodeled Kitchen with Large Island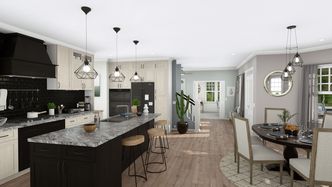 Remodeled Open Floor Plan Kitchen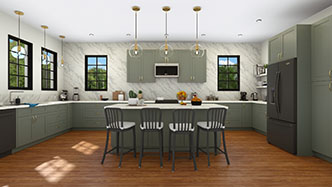 Remodeled Kitchen Cabinets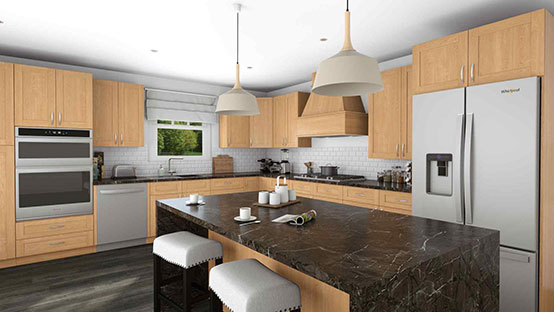 Remodeled Kitchen with Drop Lighting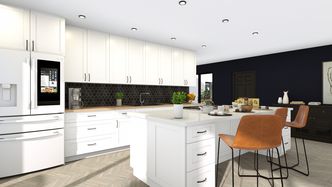 Remodeled Kitchen with Counter Seating
Kitchen Remodeling FAQs
Here are some answers to questions about kitchen remodels and how to improve your remodeling business.
What is a realistic budget for a kitchen remodel?
The budget for kitchen remodels depends on a lot of things like kitchen size and exactly what upgrades are being made. But, for the average, medium-sized kitchen be prepared to spend $20,000 – $50,000. When using Cedreo to create your remodeling plans, use the CostCertified integration for fast, accurate estimates of every project.
What is the most expensive part of a kitchen remodel?
Again, this will depend on exactly what the remodeling project looks like, but typically the biggest cost investment will be kitchen cabinets. Top-of-the-line cabinets can eat up 25% of the entire remodeling budget. You can create a few cabinet options within your Cedreo designs, and use the CostCertified integration to calculate price differences.
How can I promote my kitchen remodeling business?
Take advantage of digital marketing to promote your business. Be active on social media, update your website, encourage online referrals, and start a monthly e-newsletter. 3D renderings of your pre-construction designs with photo comparisons of the finished projects show just how accurate you are with customer feedback.
How can I make my remodeling proposal stand out?
Most customers attain 3-5 estimates when looking to remodel spaces in their homes, so making yours stand out from the rest is important. Other than just pricing, clients are looking for great client references, detailed floor plan designs, and photorealistic 3D renderings.