3D Rendering Software
for Exterior and Interior Home Design
Sell more by presenting interior and exterior 3D house renderings to your clients
3D Renderings for Homebuilders, Remodelers, and Interior Designers
3D renderings are used by professionals throughout the home and commercial design industry.
Photorealistic 3D renderings bring your building and design ideas to life so clients can visualize their dream space and make changes before construction begins.
Homebuilders & Contractor
Professional home builders and contractors use 3D renderings to:
Save time and money on conceptual designs
Help home buyers decide faster
Give clients that WOW factor
Spruce up marketing materials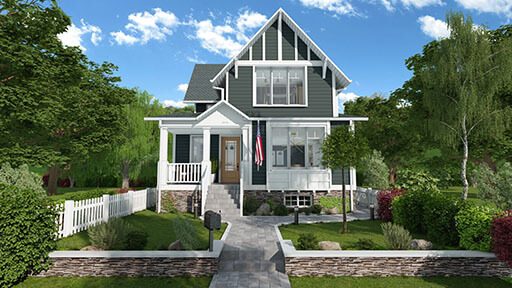 Remodelers
Remodelers use 3D renderings to:
Improve communication with clients
Add personalized details that sell designs
Show photorealistic before and after shots
Allow for easy changes from clients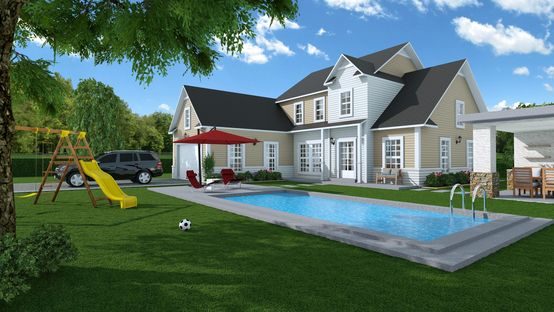 Interior Designers
Interior Designers use 3D renderings to:
Visualize design ideas to clients and adapt on the go
Show multiple views of the same room for different perspectives
Highlight multiple design ideas with the same view for comparison
Improve website with 3D rendering design idea and finished product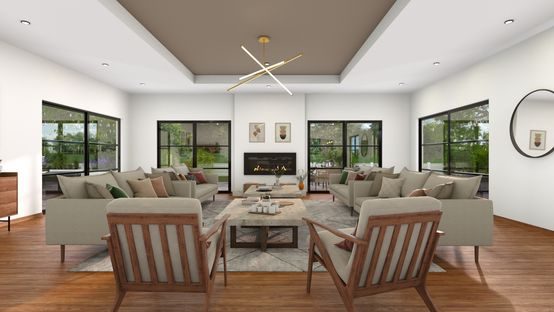 Create Complete 3D Home Renderings in Less Than 5 Minutes
Cedreo 3D house rendering software is both powerful and easy-to-use. You can create photorealistic 3D renderings of a home with accurate lighting and surface shading in less than 5 minutes.

Create appealing presentations that easily communicate your vision and help your clients visualize their new home faster than ever.
Create Architectural 3D Renderings Online
Cedreo is 100% cloud-based, so you don't need a powerful computer to generate your 3D renderings — all designs are created by our servers.


Use your laptop in client meetings to revise designs on the fly and generate updated renderings. All you need is an internet connection.
For Each 3D Rendering Image, You Can Select:
Perspective of the house: interior or exterior
Placement of the camera: eye level or top view
Resolution: HD (1280×720 px) or full HD (1920×1080 px)
Lighting: daytime or nighttime
Sunlight orientation: add, remove, or reorient shadows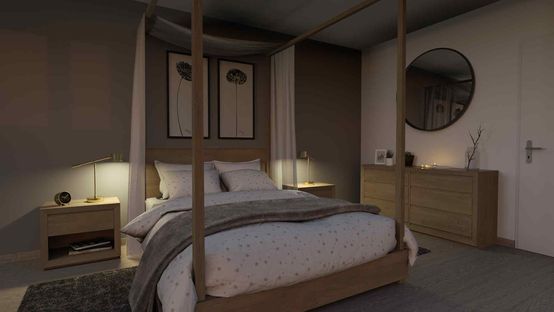 Use Automatic or Customized Sun Orientation
You can manage the sun orientation automatically and get your photorealistic 3D rendering in just 1 click. Or you can choose the sun's position yourself.

Drag your mouse along the longitude and latitude axes to change the sun's orientation, so you can accurately display how the sunlight illuminates indoor and outdoor spaces.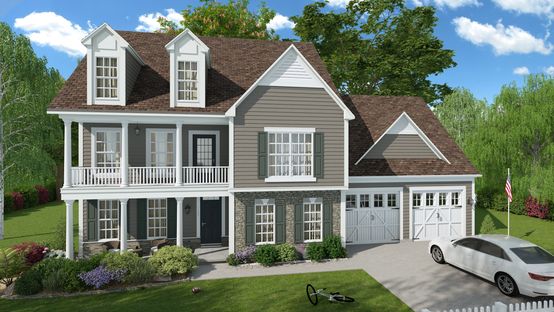 Create the Perfect 3D House Rendering to Win Over Your Clients
Cedreo's lighting effects, shadows, and textures will add more depth to your projects.
Present detailed 3D renderings that help clients visualize their new home — and close deals faster than ever before.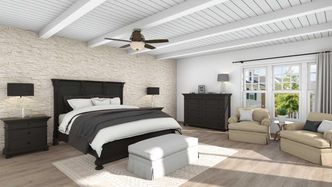 Interior Design Renderings
This perspective is key to allow clients to envision the space and feel an emotional connection with your proposal. The sun orientation shows them how rooms will look in real-life.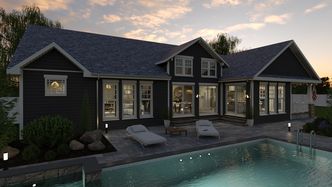 Sunset Orientation
Select the sunset setting and turn on the interior and exterior lights to show a more intimate atmosphere. This view helps clients envision a relaxing evening in their home.
Exterior Home Renderings
New builds, exterior remodels, and landscaping projects should include as much detail as possible in the external view — just choose your features from Cedreo's extensive image library.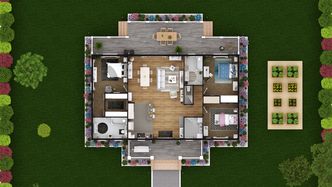 3D Floor Plan with Exterior Space
A 3D floor plan rendering with exterior lets clients visualize the entire space within their lot including the home's interior.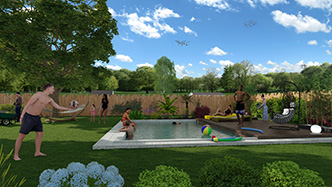 3D Renderings with Characters
You can add characters to personalize the home project, making your proposal even more lifelike and helping home buyers envision themselves in the new home design.
3D Renderings with Surrounding Buildings
With this view, your clients can visualize your design as it relates to the surrounding environment and buildings.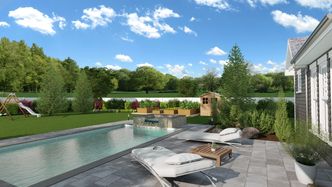 Landscape Renderings
Exterior 3D renderings help clients visualize their outdoor space and landscaping.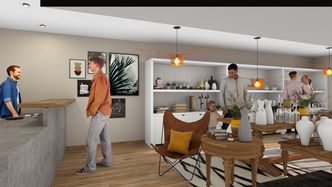 Commercial Renderings
Cedreo can also be used for commercial spaces. Create stunning commercial renderings to view storefronts, office spaces, and hotel rooms.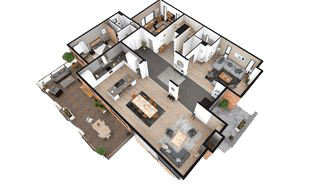 3D Floor Plan Top View without Background
A 3D floor plan helps clients see the potential of the house and how the rooms will look once furnished and decorated.
3D Home Renderings Examples Created With Cedreo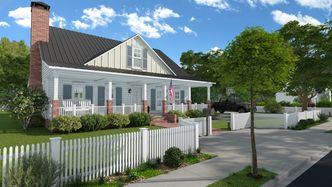 Farmhouse Exterior Rendering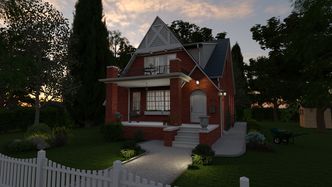 Home Rendering at Night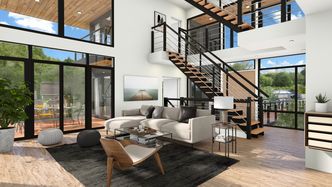 Multi-Level Interior Rendering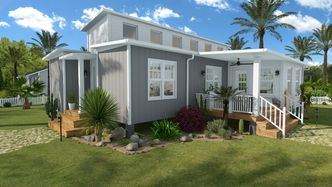 Bungalow Exterior Rendering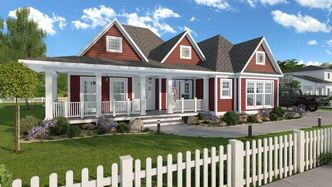 Country Home Exterior Rendering
Cut Costs With 3D Renderings
Stunning 3D Renderings are great to WOW your clients, but a 3D Rendering Software can also help you cut unnecessary costs.
Learn How Here
Read What our Happy Customers Say About Cedreo